---
Canada is descending into a fully authoritarian regime under the China-loving dictator wannabe Justin Trudeau, as more evidence of the leader's tyranny emerged in a shocking video on Friday.
After Trudeau invoked rarely-used emergency powers mostly reserved for wartime earlier in the week, he has moved rapidly to crack down on "Freedom Convoy" protestors, arresting their leadership, freezing bank accounts, and threatening jail time.
That now includes sending in armed police on horseback to trample demonstrators who were simply trying to exercise their democratic right to protest what they see as an absurd COVID-19 vaccine mandate for truck drivers who spend most of their days alone in the cab of their tractor-trailer rigs.
You can clearly see that the officers have completely disregarded the safety and lives of demonstrators in their quest to break up the demonstration, leaving at least two people trampled in their wake as protesters scream at them to stop, as a line of riot police watch: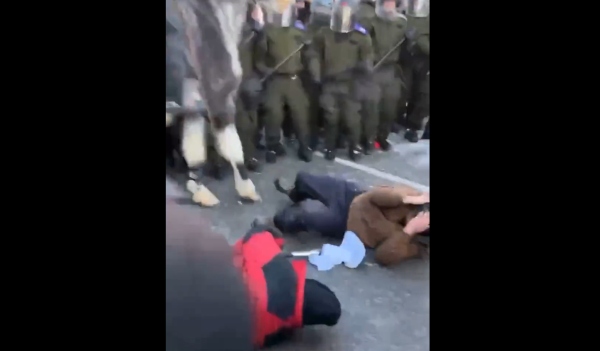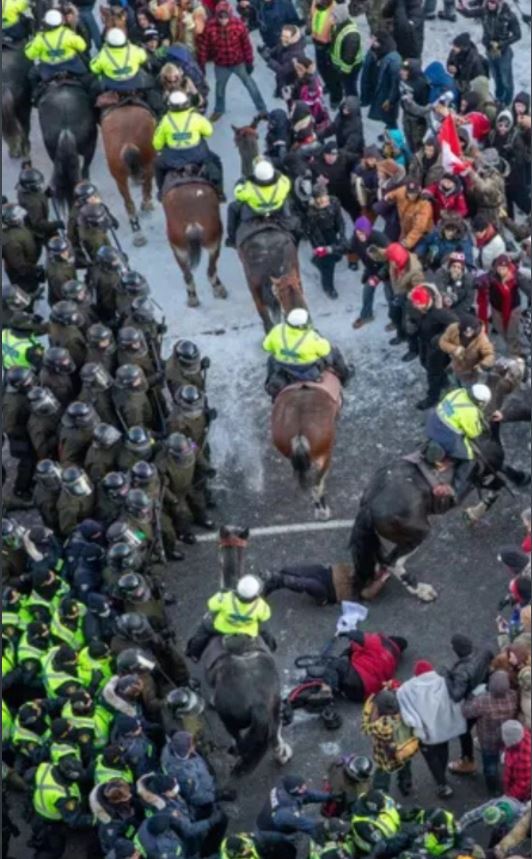 Trudeau is receiving no small amount of criticism, both from abroad and at home, over his tyrannical actions.
"We are writing to you as representative pastors of Christian congregations from across the nation and as law-abiding citizens who respect the God-defined role of civil government and uphold the Canadian Charter of Rights and Freedoms, the highest law of our land, which recognizes the supremacy of God over all human legislation," says a letter to Trudeau, which was signed by 29 clergymen and remains open for other Canadians to sign, that was published last week.
"The Ottawa protest has presented your government with a wonderful opportunity to meet with and speak to ordinary Canadians lawfully and peaceably requiring the restoration of their constitutional rights," they wrote.
"However, in response to their singing, praying, dancing, candy floss, bouncy castles, speeches about the Constitution and outpourings of patriotic love for the country, your government has not only refused to meet with these citizens to hear their concerns, you have insulted, denigrated and lied about them, further dividing a hurting and broken nation," the clergy letter continued.
Canadian lawmakers including Conservative MP Dane Lloyd have also ripped Trudeau for his authoritarianism.
"I've never seen such shameful remarks coming from this Prime Minister – my great grandfather flew over 30 missions over Nazi Germany. My great-great uncle's body lies at the bottom of the English Channel," Lloyd railed.
"There are members of this body who are descendants of victims of the Holocaust. For the Prime Minister to accuse any colleagues in this House of standing with the swastika is shameful – I'm giving the Prime Minister an opportunity. I'm calling upon him to unreservedly apologize for this shameful remark," he demanded.
The Desert Review described the scene in Parliament on Friday:
A defiant and unrepentant Trudeau next spoke and entirely ignored Dane's rebuke. Angry shouts and pandemonium erupted and drowned out the Prime Minister's timid comments.
 Dane Lloyd regained the floor and boldly repeated his demands. The speaker was forced to request order so Trudeau could again be heard. Once again, as Trudeau began speaking, the jeers and angry shouts resumed. Finally, his voice drowned out, Trudeau sat down.
Dane once again spoke to an attentive Parliament near the edge of their seats. 
"Mr. Speaker, the lack of an apology from that Prime Minister speaks volumes. I've given this Prime Minister an opportunity to retract a shameful remark where he would accuse any honorable member of this House to stand with a swastika, and as I've said before we have colleagues who are the descendants of victims of the Holocaust – I'm giving the Prime Minister one more chance. Will he apologize to ALL members of this House?" Lloyd said.
After Trudeau ignored his demand and spoke timidly, the outlet said Lloyd rose once more and blasted the prime minister.
"The fact is, I don't know how any member of the Government Caucus can stand by this Prime Minister – when he accuses honorable members of the House of standing with a swastika! I'm calling on ALL members of the Liberal Caucus to denounce the Prime Minister. I've given him two chances to apologize – he has refused to apologize. Mr. Prime Minister – APOLOGIZE!"
Canada's democracy is literally teetering on the edge of collapse, but at least some of the country's citizens are refusing to let it go without a fight.
Sources include:
Submit a correction >>